Crew
PJ5/SP9FIH
Name: Janusz Węgrzyn
Licensed: 1972
DXpeditions:
SP9FIH/OH0 (Aland Isl. – 1984), SP9FIH/OA4 (Peru – 1987), FO0WEG (Austral Isl. – 2000), FO0POM (Marquesas – 2000), FO/SP9FIH (Marquesas – 2001), A35WE (Tonga – 2003), 9N7WE (Nepal – three times: 2003, 2015, 2016), PJ4/SP9FIH (Bonaire – 2013), VP2V/SP9FIH (British Virgin Isl. – 2014), VP2VAK (WPX from BVI – 2014), J79L (Dominica – 2014), XX9TIH (Macau – 2015), ZA/ZA1P (Albania – 2016), E44WE (Palestine – four times in 2017/18/19), HB0/SP9FIH (Lichtenstein – 2017), PJ5/SP9FIH (St. Eustatius – 2018), PJ5Z (WPX from St. Eustatius – 2018), E6AF (Niue – 2019), EX0QP (Kyrgyzstan – 2019), S79W (Seychelles – 2019), VK9NK (Norfolk Isl - 2020), TO1K (Saint Martin - 2021), D60AC (Comoros - 2021), PJ7P (Sint Maarten - 2021)
Guest operator at: BY1QH (China – 1988)
WPX SSB 2014 Contest Expedition World Winner Plaque (VP2VAK)
WW SSB 2014 Contest 10m – 5th in North America (J79L)
WPX SSB 2015 Contest 15m – 3rd in Asia (9N7WE)
WPX SSB 2018 Contest 20m Expedition World Winner Plaque (PJ5Z) – 3rd World
WW SSB 2018 Contest 20m LOW Power – 1st World (E44WE – Asia all time record)
WW SSB 2021 Contest 15m – 4st World, 1st in North America (PJ7P – zone 8 all time record)
Single-Operator Cass Award winner for 2017, 2018, 2019, 2020, 2021 (one-man dxpeditions)
PJ5/SP9FOW
Name: Roman Gładysz
Licensed: 1970
DXpeditions:
J88HL (St. Vincent - 2013), VK9XSP (Christmas Island - 2014), S79SP Seychelles - 2015), 8Q7SP (Maledives - 2016), 5J0P (San Andres - 2016), EX0QP (Kyrgyzstan - 2019)
Interested in CW/SSB and contesting. Other interests: sailing yacht skipper, active mountain rescuer.
Operator of SN9D, SN0HQ, SP9PRO, SP9PZD
PJ5/SP9MQA
Name: Dariusz Adamczyk
Licensed: 1981
DXpeditions: this is the first one - I am gaining experience. Mostly CW operator
Our support in Poland:
SP9HVW Józef Łuska
Made all necessary adustments, measurements and repairs of our equipment.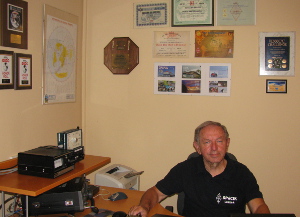 SP6CIK Leszek Przybylak
Help with equipment
SP6OJK Jarek Misiak
Transport and logistic help
SP3CYY Jan Ambroży
Loan of coax cables
SP6EQZ Włodek Herej
Loan of band filters
SP2FUD Bogdan Mądry
Loan of band filters
SP2GCJ Zenon Trykowski
Loan of band filters